Call for Artists: Deadline Extended! Apply by November 3rd
Calling all creatives! The deadline for the Oak House Local Art Program has been extended. Submit your application by 5pm on Friday, November 3rd.
We are looking for exciting new artworks created by local artists to bring the new Oak House Student Residence to life. Artists working across all mediums are invited to apply, including painting, photography, sculpture and mixed media.

Find out more and submit your application. 
Spaces & Experiences at the University of Toronto is delighted to announce that the new residence community, known in its nascent planning stages as the Spadina-Sussex Student Residence has officially been named the Oak House Student Residence. The name is a result of a consultative process with senior members of the University administration, the leadership team at Spaces & Experiences, students in residence and RA (Residence Advisor) staff.
Built in conjunction with Daniels Corporation, this residence community features 508 bedrooms in the student resident tower alongside a commercial-grade kitchen operated by U of T's Food Services team. It also will include 10 townhouses to provide additional faculty housing and ground floor ancillary retail while keeping its heritage elements. The entire project has been designed to be supported by geo-exchange heating/cooling among other sustainability features. Student common areas will include study space, a music practice room, a fitness studio, and a project room on the mezzanine level. Two dining halls and a multi-purpose event space will occupy the second floor.
The Oak House Student Residence will be a sustainable living student community that incorporates not just physical sustainable attributes to the building (e.g. geo-exchange) but also community-based ones, for both the broader Spadina-Sussex community and the University. It will bring a new standard of living for students and faculty to campus, and will aim to promote collaboration, integration, and cross-population interaction through academic and co-curricular programming within the university, the surrounding community, and the City of Toronto itself.
Why Oak House?
The oak tree has long been a symbol of strength, wisdom and our connection to nature and the earth's environment. The Oak House will contain a student community that will build upon the academic strength, wisdom and strong roots of the University of Toronto while fostering a community dedicated to sustainable innovation and outreach. Oak is quite literally the foundational building material of many homes, and is commonly associated with longevity, stability, strength, and endurance. It is our hope that this student community will provide a solid and enduring home for many students for many years to come.
Oak trees can be found all over the University of Toronto St. George campus and for 196 years have been part of the University's Coat of Arms and a symbol of the institution.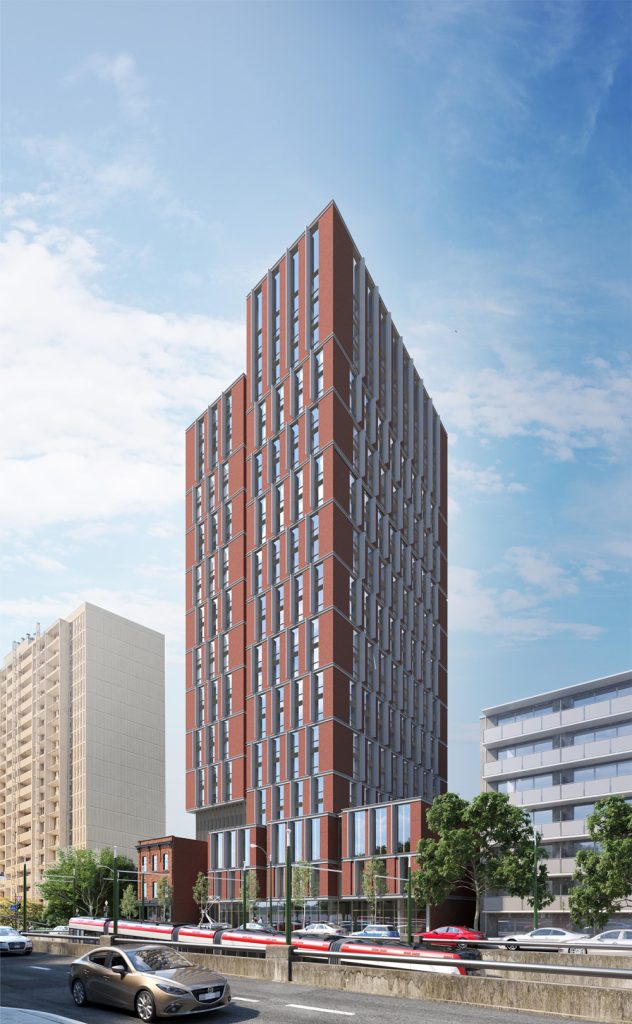 Oak House Local Art Project: Call for Artists
For Daniels and the University of Toronto, each new community is a work of art. From conception through to completion, every community is designed to enhance its surroundings, the community and to make a statement about its unique character. The Oak House Local Art Program invites artists to submit proposals for the residence. The art will live in various spaces throughout the residence and enhance the values and goals of the community through visual art pieces (paintings, sculpture, etc.). The work will be evaluated by a jury comprised of U of T students, staff, faculty and senior members of the Daniels Corporation, and will be installed in the summer months of 2024 – just prior to the building opening in September.
For this opportunity, priority will be given to artists who self-identify as:
Having a connection to U of T (current students, alumni, family, member of surrounding communities)
Connection to the Spadina/Sussex or Harbord Village community (current or past residents)
Connection to S&E student residences or communities (Chestnut Residence, Grad House)
Diverse individuals belonging to equity-deserving groups including but not limited to members of visible minority groups, Indigenous Peoples, persons with disabilities, and LGBTQ2S+ people 
We would encourage submissions that relate directly to any of the following:
Oak Trees/Leaves
Sustainability
Community
Innovation
Students + Learning
Indigenous heritage
We invite anyone within the U of T community to submit their works by using
the following link
and look forward to artist talks with the selected artists throughout 2024.